The Complete Guide to DISC Assessment Trainings
DISC Assessment Trainings offer an engaging, fun, and personalized solution to solving common workplace issues. DISC is a personality assessment that can help solve workplace issues like communication problems, team conflict, or workplace relationship issues.
At its core, DISC is designed to help improve self-awareness, which is valuable in any company, organization, or relationship.
However, starting or scheduling a DISC Assessment Training can be challenging to know where to start. We've created this DISC Assessment Training Guide to help answer the following questions for those who are looking to start using or scheduling a DISC Assessment Training:
This Guide is designed for individuals who plan to teach or schedule a DISC Training. 
However, if you are a learner who was invited to join an upcoming DISC Training, you might find the content in this guide valuable to understanding the methods behind the program.
What happens during a DISC Assessment Training?
The goal of DISC assessment training is for everyone who attends to walk away with a better understanding of their own DISC Style, their co-worker's DISC Personality Type, and how to use DISC in everyday interactions.
First, complete the DISC Assessment!
DISC Assessment Training participants will first complete their DISC assessment to learn these three items. If you are new to DISC, you can take a free DISC Profile to understand your DISC Style. This report offers a person an introduction to DISC and their DISC Style.
Once a training participant completes the DISC Profile, they will learn about their own behavioral DISC Style.
The assessment has no right or wrong answers, just like there are no right or wrong DISC Styles.
The DISC Assessment will tell you which of the four primary DISC Behavioral Styles is your primary or secondary style:
Decisive and risk-takers. This style challenges what they hear to solve problems. They avoid situations that make them feel out of control at all costs.
Social and friendly. This style always seems to be optimistic and trusting. They fear being left out or losing the social approval of their peers.
Team player. Stable. Calm. This style is patience and a stabilizing force for your team or group. They fear sudden changes or loss of stability.
Analytical. Accurate and not afraid of details. This style is cautious and careful when making decisions. They fear being wrong or inaccurate.
While this knowledge is often valuable and exciting to learn, the actual value of DISC is using it. The best way to learn how to use DISC is to use it during conversations and activities. This is why scheduling or participating in a DISC Training is essential.
Participate in DISC Assessment Training Activities
The first activity during a DISC Assessment training is to read and personalize your DISC Profile results. 
While DISC includes different types of graphs to show your assessment results, the profile shares a narrative about what your results mean and how they impact your life.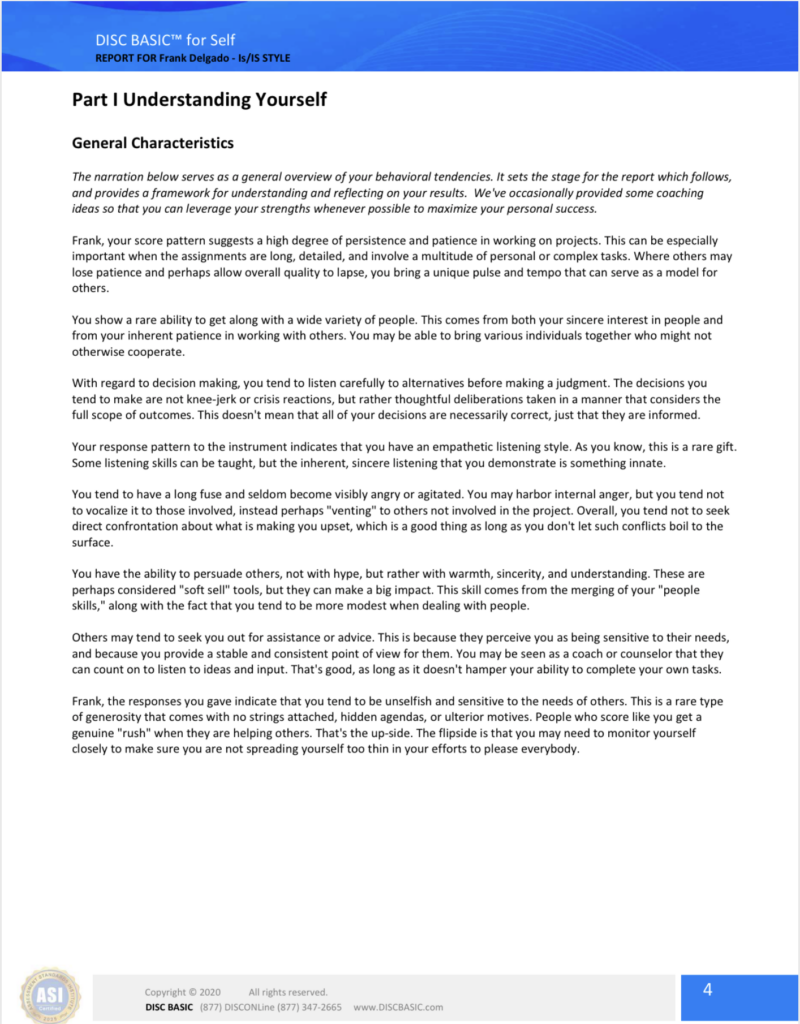 Participants will read their DISC Story and underline statements that resonate with them, cross out statements they disagree with, and question things they want to get more clarification on.
It's important to have a Certified DISC trainer leading the workshop because they can guide participants through any questions they may have during the session.
After participants have read their report, it's time to learn more about the other 12 DISC Personality Types.
Learners will receive an overview of each style and then engage in small group or partner discussions to get first-hand experience with each style by speaking with their co-workers, colleagues, or other session participants they haven't met yet!
What does a DISC Assessment Cost?
The assessments for a DISC Assessment Training are sold based on the volume purchased. The full DISC Profile's cost starts at $59 and decreases in price after 15 assessments are purchased.
We provide discounted pricing for consultants, colleges/universities, non-profits, and all governmental agencies. 
Please email us for discounted pricing and review the volume pricing chart if you are a for-profit organization.
DISC Assessment Certification: Is it worth it?
We want to be very clear: conducting a DISC Assessment Training doesn't require completing the DISC certification course. 
We work with many trainers, coaches, consultants, and HR professionals who are experienced in training or using other assessments and can use DISC effectively by leaning on their experience.
The power of DISC is that it's a simple model that offers complex insights.
However, DISC Certification is valuable for anyone who hasn't used an assessment-based training program or is new to training or coaching. The DISC Assessment certification course covers many topics that could arise during your training or coaching session, such as:
Why did I receive these results?

Is DISC Valid?

What are the benefits of going through DISC?
The certification course combines self-directed learning with a live coaching session where you must use what you learn to debrief a DISC Assessment with a Master DISC Trainer. At the end of the course, you will feel prepared to answer most questions about the assessment process and DISC Research and Validation.