DISC for Leaders is a self-assessment tool that helps leaders develop their self-awareness and ability to communicate.
The insights from DISC help a leader become more self-aware of their behavioral strengths and how leaning on these strengths can become their weaknesses. Leaders can use insights as they manage, strategize, and grow their organization or team.
Once a leader learns their style DISC, it becomes another language that they can use to describe their perspective or decision. DISC will help any leader learn how to better:
Collaborate
Communicate more effectively
Adapt their responses in any social situation
These soft skills are frequently cited within the top five soft skills required for leaders.
What does DISC for Leaders cost?
The DISC Basic for Leaders assessment is sold based on volume. You are able to purchase this leadership assessment directly through our website. Once you complete your payment, you will receive an email with the number of access code(s) that you purchased along with a link to complete the assessment.
DISC Basic for Leadership assessment access codes can only be used once. Please ensure that you or your learners don't share the code with others.
For organizations and individuals that want more control over the issuing and management of their assessments please open a Online Personality Assessment account.
| Quantity | Price Per Profile |
| --- | --- |
| | |
| | |
| | |
| | |
| | |
How DISC Improves Leadership Skills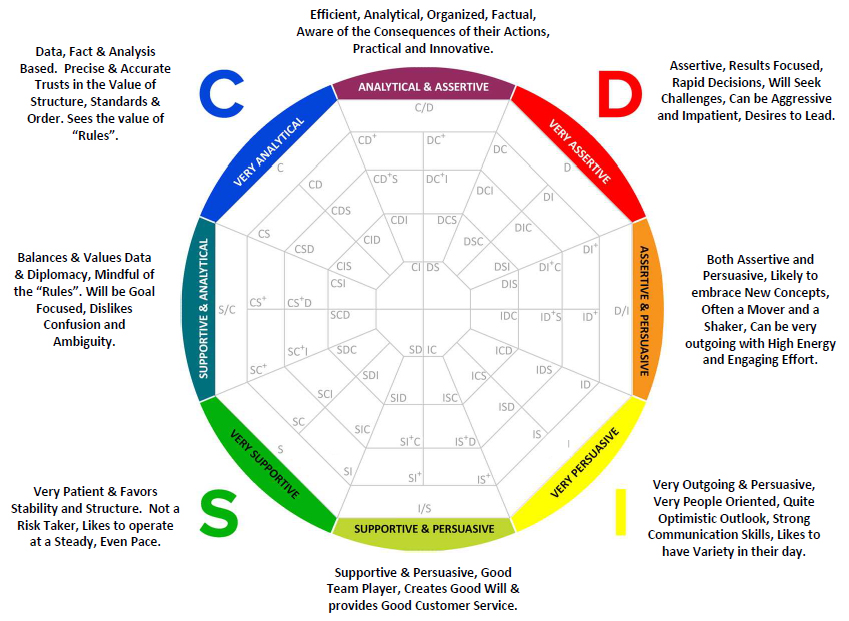 When a person completes a DISC Leadership assessment they will answer 26 questions about their own behaviors. During the assessment, they will identify their preferred responses to different situations.
Once a person completes their DISC assessment, they will receive their DISC Personality Type. A person will typically identify with one of the four DISC styles.
The styles are:
D – Dominance: Assertive, Results-Oriented, Seeks out challenges
I – Influence: Outgoing, Persuasive, Optimistic, People-oriented
S – Steadiness: Patient, Seeks stability, prefers working at a steady, even pace
C – Conscientious: Prefers to work with facts, Accurate, Seeks structure at work & life
Now, imagine a person who leads a team of programmers, and who has a C-Style.
They have progressed to their leadership position because they completed their projects accurately and with incredible quality. They stick to facts and prefer to work alone which has allowed them to produce outstanding work.
Now, while their ability to work with accuracy and precision helped them become a leader of their team, these skill sets might limit the range of behaviors they will need to use as a leader.
Their leadership position requires them to adapt and use responses that might feel unnatural or uncomfortable. As an example,
They might be required to go to events that require them to socialize with clients or prospective clients.
They might need to keep their team on task and on schedule.
They might need to support an employee who is dealing with a workplace or personal issue.
If they approach all of these new situations with the same mentality that they approached their job as a programmer, they won't succeed as a leader.
Fortunately, DISC can help them understand their natural responses and how to adapt them to match the person they are interacting with.
Open Your Account
Manage Your reports Easily
Open an Admin account where you can manage your DISC, EIQ, and Motivators assessments. Brand your completed reports with your logo and company information. Requires a one-time, $95 fee.
Learn more
Unlike other DISC assessments, DISC Basic is researched for validity and reliability through the third-party research firm, Assessment Standards Institute.
Many assessment providers will validate their products through an internal research process. While this process is standard practice within the industry, DISC Basic goes the extra mile to ensure that our tools effect.
DISC Leadership Sample Report
The DISC Leadership report is a 52-page report that is produced once a person completes their leadership assessment. This report covers the following topics:
How to understand yourself through DISC
Understanding how DISC Works
Understanding others and how to adapt to improve communication and other leadership applications